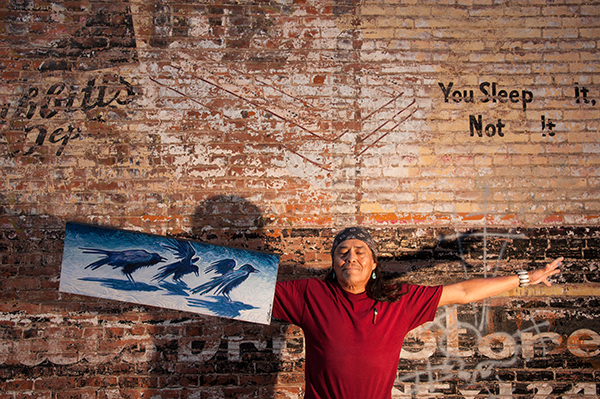 Shonto Begay

Dineh' (Navajo) Painter. Illustrator. Author. Educator
Born in a hogan and raised on Diné land, known as the Navajo Nation, Shonto Begay began professionally writing, illustrating and painting in 1983. His work captures the striking beauties of a traditional Navajo upbringing and the harsh realities of modern reservation life.
"I was surrounded by Hozho (beauty), including the sounds of songs and healing chants accompanied with stories from elders," Shonto says. "From a very young age, I found excitement in recreating facets of my universe in varying images."
Shonto's acrylic paintings are done in a series of small brush strokes that repeat like the words of a traditional Navajo blessing prayer. Images harken heartfelt childhood memories and resonate the constant struggle for balance and harmony with humankind and the Earth. His traditional life of sustainability and prayer helped him endure the brutality of the U.S. government boarding school he was forced to attend as a child away from the loving family sheep camp he was asked to forget.
"I survived boarding school partly because of my spiritual strength and retreat into my drawings. I was always drawing. 'Arts Save Lives' has been my mantra ever since. Some people did not survive like me. They are walking traumas of my generation," Shonto says.
Represented in galleries and museums worldwide, he was one of 16 children. His mother is a traditional Navajo rug weaver from the Bitter Water Clan and his father was a medicine man born to the Salt Clan. Shonto grew up herding sheep in Kletha Valley, located in Shonto, Arizona.
Shonto speaks to audiences of all ages about inspiration and the importance of education and embracing cultural backgrounds.
Shonto's art has been exhibited in solo shows at the Museum of Northern Arizona, Arizona State Museum, Utah Museum of Fine Arts, The Wheelwright Museum of the American Indian in Santa Fe, the American Indian Contemporary Arts Museum in San Francisco and Phoenix Art Museum.
Shonto attended Bureau of Indian Affairs boarding schools all over the Navajo Reservation and high school in Kayenta. He received an Associates of Fine Art degree at the Institute of American Indian Arts in Santa Fe, and a Bachelor of Fine Arts degree from California College of Arts and Crafts. He worked a decade in the 1980s as a National Park Service ranger at Grand Teton National Park in Wyoming and Navajo National Monument in Arizona.
Exhibitions
2013-2014 Arizona State Museum, Tucson, Arizona (Dec 6-May 6)
2013 "Bierstadt to Warhol: American Indians in the West" Utah Museum of Fine Art
2011 Plein Air on the Rim, Kolb Studio, Grand Canyon, AZ
2006-Present – Mark Sublette Medicine Man Gallery, Indian Market, Santa Fe, NM
2009 – Farmington, NM
2009 – 1st Annual Rock the Canyon Community Celebration, Headliner, Shonto, AZ
2009 – Geronimo Remembered: A Retrospective 100 Years After His Death, Mark Sublette Medicine Man Gallery, Tucson, AZ
2007 – Arizona: A Millennium of Arizona Art, Mark Sublette Medicine Man Gallery, Tucson, AZ
2002 – IAIA MuseumWalk the Line, Santa Fe Indian Market
For information contact: rechelmediapr@gmail.com